Let it Snow!
Posted on

February 1, 2021

by

bdieges
Click on the image above for the link to the free pattern.
We have been waiting for this snowstorm for weeks!  I know some of you are thinking, are you crazy?  Who wants all that snow!  Well, we need it badly.  This has been a very dry year for Southern California and snow is very welcome because it sits, melts, and soaks into the ground, versus hard rain washing away hillsides and running down into the ocean!
This is my winter quilt, I can't imagine why.  It is a king-size quilt made with wool batt and is actually not that heavy, but very snuggly. It is machine pieced, hand appliquéd, and quilted.  I entered it into the Houston Quilt Show in 1998.  It didn't win any prizes, but it did end up in their calendar and on the cover of the 1999 Quilter's Newsletter, which is now out of print. Click on the quilt for more information about the Snow Crystals applique.
Here is another snowy quilt.  This one was made for a Quilt Challenge for the Tehachapi Quilters.  The design was inspired by the sun shining through a window reflecting off of the snow.  It is machine pieced and quilted.  The snowflakes are ironed on and then kind of machine appliquéd in place.  You will see it in the close-ups on the Snow Crystals Applique page. I used the same machine appliqué technique that I used to appliqué the dandelions in the Garden Row Along in October.  Click here to see the quick video.
************************
Northwind, or Corn 'n' Beans, and there are other names for it, is a great block that has a variety of ways it can be set and is also great for using scrap fabric.  This is one that I have used in a couple of my appliqué quilts along with the second block, which is a filler block, can be tucked into rows of Northwind blocks, leaving some open spaces for appliqué.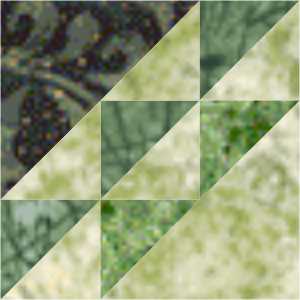 Here is one way it can be set. In a way, it is similar to a log cabin setting with the dark and light side.  When you use only this block in a quilt, you don't have to worry about matching up the individual patches as you sew the blocks together.  As long as the blocks are squared up and the same size, making sure the block corners match is all that is important.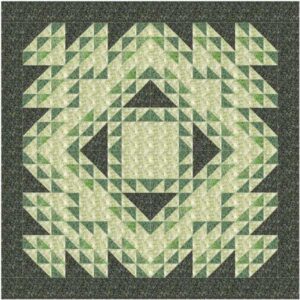 The filler block is used along with Northwind in the quilt above and below in Cherry Picking Summers.  This quilt is in my book. Click on the quilt below to take you to the link.
This one was the Tehachapi Quilt Guild Opportunity Quilt I designed along with my friend Molly Hamilton in 2006.
---
---
Click below to take you to the 2021 Quilt Along.
Remember the free version goes away at the end of the month!
2021 Block of the Month
My Classes at Academy of Quilting
---

Tags: block-of-the-month, BOM, Electric Quilt, EQ, paper piecing, piecing