Gallery
From time to time, I will be adding more quilts, scroll down to see them all.  You might also like to see the Quilts from Our Heart Gallery or check out the Block of the Month Gallery.
This quilt won a blue ribbon that the Santa Barbara Quilt Guild Show in September 2016 for Diane H.  Thank you for sharing, great color combination.
---
---
WAGGLY TAIL
This is a full-size quilt in the making. Jane tells me she has made "litters" of puppies to make the quilt for her grandson.  Can't wait to see it finished.
******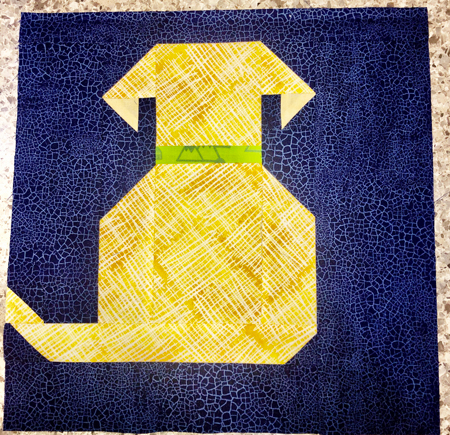 Trinity made just one block to be incorporated into a memory quilt.  The block represents Molly the best ever yellow lab.
---
---
Ingrid sent me these pictures of her Bunch o'Clucks, don't you love it?  She took the picture in the "birdhouse."  I guess that is a playhouse in her backyard.  She used rickrack around the border and buttons to hold the wings in place, little creative touches that are so cute!
---
---
CABIN FEVER QUILTERS WORKSHOPS
What an exciting time we had in Fairbanks Alaska.  The guild members were so warm and welcoming.  The three workshops were awesome, Blossom Time, Blended Triangles, Starburst and Tulip Garden–using the same techniques to make either, flowers or stars.  The students worked hard to get a lot done.  As you can see they did a great job.  The creativity that developed in the class, was fun, notice the flower in the bottom row?  Same techniques, different flower.
Then there was Jeanine's dilemma, talk about ingenuity! She had lost the pad on the bottom of her machine. See the photo, below. What did she do about it? Replaced it with a Lifesaver, lick and stick! And it worked!
---
---
MAXINE'S POND    40″x28″
Finished my sister's quilt that was started with purchasing the fabric panel, at least 10 years ago!  I thought of her when I purchased it, because she has a huge and beautiful koi pond.  Last year our guild invited Judy Sisneros to teach a class on using printed panels.  The three large fish at the bottom are silhouettes of some of the koi in her pond.  So I made the top and told my sister about it.  End of March my sister, emailed me wondering, if she was going to receive the quilt any time soon.  Needless to say that put a fire under me to finish it.
---
---
We had a lot of fun at the Cactus Sewables. Carole's quilt top was the first picture I received from a workshop I taught in Yucca Valley, CA the first week of April.  The small inner border really sets off the center.  Jeanne's quilt top shows off some stunning colors. Denise thought her's was too light, but I think it make the dark purple really look like a twisted ribbon. Penny added a nice touch with the pieced side borders.  The class was a delight to teach; they were all so excited about learning a new technique.  Good work, ladies!
The following tops in the first row, were made by Sandi, Wina and Anita in a workshop I taught to the Pine Needler's Quilt Guild in Groveland CA.  Great border treatment, Sandi! Wina decided to make hers larger by repeating the panels.  We had a wonderful time in the workshop, even though there were twenty students. They were busy and most of them were almost finished by the end of the day! Groveland is a small charming community on the way to Yosemite National Park.  Though it is not too small to have a quilt shop! Take a look at the Bargello Twist pattern.  In the second row, the tops were made by Ann, Bernice, Kay, Jean and Judy.  Although the instructions were identical, through the individual's fabric choices of color and placement, all of the pieces are very different.
---
---
Leah Bessey entered her rendition of my pattern Patriotic Celebration into the 2009 Glendale Quilt Show.  She received Viewer's Choice award!  It was so exciting to see my pattern changed in a very creative way.  Congratulations Leah!  She also entered it into the Road to California 2010, I made a special trip to see it there!
---
---
Taught this at a quilt retreat in Battle Mountain, Nevada, the first weekend in August, 2008.  What a great group of ladies!  Debbie had only one day to work on her quilt, as the first day was spent with her daughter during the birth of her grandson!  Beautiful color combination.  The second photo is LeAnne's quilt.  Notice that she made the center of her diamonds light.  Take a look at the pattern and my sample that I worked on during the retreat.  Finally finished it, almost one year later to the day!  Scroll down to see another version, with a different story.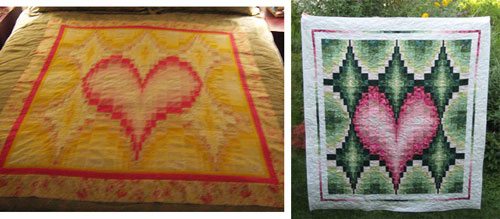 Same year different location.  When I performed my one woman play for the Citrus Belt Quilter's in Redlands CA, during Show and Tell Cathy Kreter of CJ Designs, Riverside, CA shared this quilt.  Cathy had taken my class over 10 years ago.  The quilt hangs in the entry way of her quilting "house" which has a cathedral ceiling.  She had to get out the 10 foot ladder just to get it down, but she figured I would enjoy seeing it.  She has no idea how much pleasure I get from seeing my student's work.  The Citrus Belt Quilter's puts on a wonderful quilt show every May.  What makes it different is that they display quilts in beautifully kept vintage homes in Redlands.  One year they were given access to the Morey Mansion, which had just been renovated.  It was a spectacular setting for all those wonderful quilts.
---
---
Several years ago, my friend Ann was redecorating their bedroom and was looking for something different for a king-size quilt.  With the help of Electric Quilt and Quilt Pro, I developed this design.  It took a while to find just the right batiks.  Ann finished it just before Christmas.  It was machine quilted by Molly Hamilton McNally.  It also developed into a fun workshop for me to teach, as you can see with the Cabin Fever Quilters above and the Tehachapi Mountain Quilters below.

These are the results of a workshop taught for the Tehachapi Mountain Quilters, my home guild.  June didn't finish her quilt in time to join the others in the group picture, since she made a lapsize quilt.  Thanks Leni, Barbara Z., Kathy, Linda and Lynn for participating in the workshop and finishing your quilts and tops.  I really like the dark background that Lynn used.
---
---
VIEW OF THE LAKE    22″x36″
Last year I visited my friend Ann in Redding, CA.  She asked me what I wanted to do, what else was there to tell her, but "Quilt!"  "What?"  Was her next question.  I had been wanting to try a scenic quilt, so I drew this design on freezer paper.  She pulled fabric from her stash and I sewed and sewed.  We finished the top by that afternoon.  It was very rewarding and freed me from my piecing habits, where everything has to match.  It is very heavily machine quilted with variegated rayon and metallic threads.  It won a blue ribbon for Innovative Piecing at the Best of the Valley Show in Tulare, CA.
---
---
SHADED NINE PATCH–CALIFORNIA HERONS AT SUNSET
This quilt was started by Christy, during the class I taught at Empty Spools Seminar, held at Asilomar, Pacific Beach, California.  She now lives in Boulder City, Nevada.  Here is the story of Christy's quilt, in her own words.  "When I signed up for the class, I had in mind doing something that would be representational of the sunsets I'd been enjoying in central California.  I thought I did a pretty good job of moving the colors.  I got the final approval on my way home when I witnessed another of those wonderful sunsets.  The surprise and what 'finished' the quilt for me was the presence of two herons, in the flooded rice field beside the highway."  "I fussed for a couple of years on how to do the heron.  I got the final method and idea for completing the heron at Asilomar in an independent study session with Sharyn Craig.  When I showed the class what I had come up with and done the night before, they all gasped.  It was great!"  Scroll down to see a couple of two other quilts below that were started during that same workshop.
LEAVING HOME
Cranes flying away from shore, inspired the name of this quilt.  I also have three children who have spread their wings, leaving home.  The cranes are also found in many Oriental designs, as I worked on it I thought about my five Asian friends who have been there for me through the years.  Two of them have passed on, so the image of two cranes is quilted into the frame.
ANOTHER SHADED NINE PATCH
Brenda's quilt top, was completed during the same week long workshop.  This quilt seminar offers several sessions every year at Asilomar, Pacific Grove, California.  Although Brenda had done some patchwork and quilting on her own, this was the first workshop she had taken.
---
---
CAMDEN STARS
This quilt is the work of a student, Cheryl Classen of Pacific Grove, California, made in the workshop I taught in 1998 at the Monterey Peninsula Quilt Guild.  She won a third place ribbon at her guild show in April, 2001 and a first place ribbon at the Salinas Valley Fair in the same year.  I am always delighted when I see work done by my students, as I only plant the seeds in the workshop.  So it is very special to see the finished project and the garnered ribbons.
---
---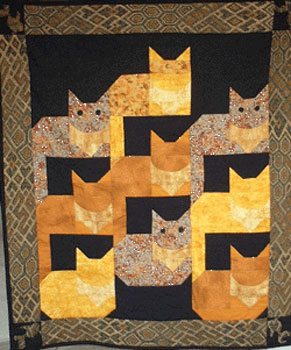 NINE LIVES
This quilt was made by Pat who lives in Scotland.  She used my Nine Lives pattern and is also a cat lover.  Don't the appliquéd fish in the corners look great?  She just used the designs that I include for quilting.  Using buttons for eyes on some of the cats, was just the right touch.  I think this quilt was done in less than 10 days after she received the pattern!  I always enjoy seeing the results of my student's and customer's work and am eager to share it here in the Gallery.
---
---
SPINNING TRIANGLES    100″x112″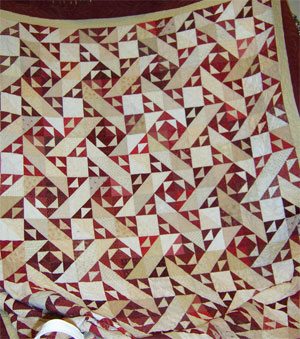 I made this for our daughter and her husband.  It was supposed to be done for their wedding.  However, it was finally finished for their first anniversary!  This very versatile block is the same one used in several quilts in the Quilts from the Heart Gallery.  You are only limited by how many blocks you want to make!
---
---