Stay in Touch
Here is some information that might be helpful!
QUILT GUILDS If you wish to occasionally print any of the copyrighted Block of the Month appliqué designs in your newsletter, please ask permission by using the contact form at the bottom of this page.
QUILT SHOPS: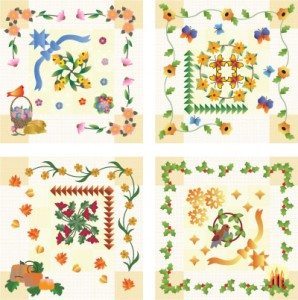 If you would like to use the appliqué blocks as a Block of the Month program in your shop (there is a fee for their use), please contact me using the form at the bottom of the page for the details.
Through the Seasons Block of the Month Program is now available, exclusively for shops, using my blocks in a new creative way. The program can be started any time of the year and has been very successful.
Appliquérs, please let your shop know about this program or have them contact me below to get all the details!
---
To contact me through snail mail:
bdieges designs
P.O. Box 989
Tehachapi, CA 93581
Or just send me a message in the contact form at the bottom of the page.