Quilts from Our Heart
This page is dedicated to quilts made to honor those who are either survivors or who have succumbed to the effects of breast or some other cancer or debilitating disease.  Each quilt has a story.  If you have a quilt that was made for you or a loved one or have made such a quilt and would like to have your quilt and story displayed here, contact me through my Contact Page.
The Blended Triangle pattern is available for sale at my Payhip Shop.  For a copy of just the paper piecing to make a Quilt from the Heart, send me an email request through the Contact Page and I will send you a .pdf.  Or send me a long stamped self-addressed envelope, to the address is on the Contact Page.  I am no longer accepting pieced blocks.
---
---
BLENDED TRIANGLES    64″x64″

Our oldest daughter Jennifer was diagnosed with breast cancer in 1998.  She went through surgery, chemotherapy, and radiation.  At that time, it was thought that it had been caught and dealt with.  However, in 1999, there was a flare-up and she again went through all of the various therapies.  Then I felt there was nothing I could do, but make a quilt to be auctioned to raise money towards Breast Cancer Research.  As I traveled to lecture and teach at various quilt guilds and told Jennifer's story, I came to realize that many women have been touched by breast cancer, either personally or through a loved one, I asked them to help me make this quilt.  Through my contacts, I provided the quilters with a 4″ paper-pieced pattern to make blocks.  I have received enough blocks to make four quilts this size, not only from these guilds but from individuals all over the United States.  Our daughter was home that Christmas in 1999.  Even though she wasn't a quilter, she helped me with the quilt design.  We used some of the many blocks that I had received.  I would not have come up with such an innovative design, without her help.  By showing this quilt on this page, I hope that all of the quilters who made blocks for this quilt will be able to see and enjoy it.  The Tehachapi Mountain Quilt Guild hand quilted it.  It was sold at auction at the Road to California Show 2001.  The last quilt on this page tells the rest of her story.
---
---
MARGE'S QUILT    72″x96″ with border
The name of this quilt is "Are we there yet?"   It has a double meaning.  When my eldest daughter was a little tot, she used to ask that question within seconds of leaving for our destination?…one of those special things we always remember about our little ones.  The second meaning is…"How long will it take to find a cure for Breast Cancer?"  "Are we there yet?"  I'm a 16 yr. Breast Cancer survivor, so when Barbara suggested we make the paper pieced blocks to raise money for a cure I went to my machine immediately.  I made one for her and one for me until I reached 600 blocks.  I turned in 300 to her and the remaining blocks were used for this quilt.  It was a labor of love.  I consider my cancer a blessing as my three daughters were under the required age for first mammograms.  Once they received my pathology report, I asked them to "insist" on a baseline mammogram.  So far, all is well.  We are losing too many young women to Breast Cancer and insurance companies should allow earlier mammograms…….they are much less expensive than the cancer treatments……
Let's stop this terrible disease in its tracks early on.    Lovingly, Marge Sheppard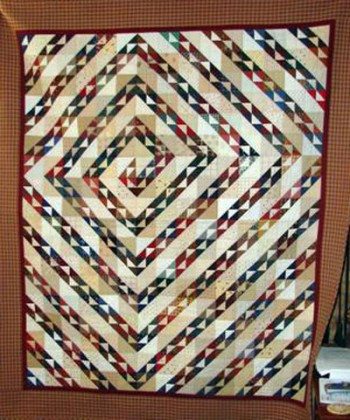 ---
---
BEYOND TRIANGLES    72″x72″
This is the second auction quilt that I have made with donated paper pieced blocks, to help raise funds for Breast Cancer Research.  There are still enough blocks to make at least two more quilts.  This quilt was donated to the auction that was held in October 2002, to raise funds to be used at the Sutter Medical Center Foundation in Sacramento, California.  The arrangement of the blocks, piecing and machine quilting was done by me.
---
---
PATCHES OF HOPE
The following was sent to me by Juleen Jaeger, it is from the label on the quilt:
The block used in this quilt is called "Blending Triangles."  The block was designed and generously shared with us by Barbara Dieges of Tehachapi, California.  Barbara is a designer, teacher and lecturer out there.  Her daughter, Jennifer, is a breast cancer survivor and her name is included on one of the blocks.

This quilt has been brought together and organized by Juleen Jaeger, a breast cancer survivor.  Through her love, dedication, hard work and endless energy this tribute can assure others touched by this devastating disease that they are not alone. Juleen's theory:  "This cancer has been but a stitch in the quilt of my life."

Each name on this quilt represents an individual or family touched by breast cancer.  Our thanks to Caroline Murray, owner of The Quilting Bee in Greendale, Wisconsin for her generosity in sharing her staff and providing the guidance and space to assemble the quilt and for her donation of the backing, batting and binding materials.

Our thanks, too, to the wonderful ladies who helped to piece the quilt top and do the finishing–Juleen Jaeger, Joan Hintz, Diane Baranowski, Telva Szymborski and Judy Hurtienne.
---
---
JEFF'S QUILT
     Rose McIntosh saw the cancer quilts on my website and asked if I would mind sending her the paper piecing pattern.  She made this quilt for her friend's husband Jeff, who had been diagnosed with malignant melanoma.
---
---
MORE BLENDED TRIANGLE QUILTS
Finally, have used up the last of the paper pieced blocks donated by quilters from all over the United States.  The quilt on the right has been pieced and quilted, but the star quilt still needs to be quilted.  Then they will be ready sell or auction, to raise money for cancer research.
---
---
JENNIFER, IN A GALAXY ALL HER OWN    30″x37″
This quilt is dedicated to our daughter, Jennifer, who lived life to the fullest, who found unbounded joy in time spent with her friends, in traveling around the world, in nature and animals, in her schooling, in her writing and poetry, in books, in her black cat Tez, in all the children she taught, in music, in river rafting and hiking, in snow camping and rock climbing, in standing under waterfalls, in swimming with turtles, in star gazing and apple picking, in everything she did.  She did what and went where she wanted to go in spite of the breast cancer she dealt with for eight years.
She came into our lives on June 6, 1969, and left us behind on March 19, 2005.
I had been fascinated by seven pointed stars for a long time and the quilt was in the design stages when Jennifer saw it one week before she died.  She was excited about such an innovative design, as it was a change from my traditional quilt making.  Her enthusiasm pushed me to finish it for the Hoffman Challenge.  It traveled for a year with the other challenge quilts.
The entire design is paper pieced.  Designing the quilt was more of a challenge, than using the fabric!  The challenge fabric was used in the centers of five stars and the inner points of three others.  There is no pattern for this quilt.

---