Everything is being revealed today!
What a day this is!  Going in a couple of different directions wasn't in the original plan but it is what it is!  Click here to see the Mountain Mystery Quilt Reveal below, but first, we will talk about my Garden Party Row Along.
Dandelions 'n' Geese in my Garden Placemats and Tablerunner!
I am not much of a gardener, but I do pull weeds in our yard.  Since weeds are the natural part of a garden I figured that dandelions would be a good subject for this Garden Party Row Along!  I also realized that they have been a part of my life and stitching for a long time.
Here is a notebook cover that I made in counted cross-stitch many years ago. If you can't read the numerals under my name it was in 1983!
Also the fourth month of the Floral Alphabet Appliqué quilt.
Then there is this family story about dandelions that still makes me smile every time I think about it.  My mother asked our son, who was about four at the time, to help her pull dandelions from her lawn.  "But Oma," he told her, "they are so pretty! Why would you pull them out?"
You all know that hand appliqué is my thing and machine appliqué not so much.  However, I wanted to try something that would be a little different.  I did it a long time ago around the edges of snowflakes.
I call it machine thread painting, sort of!  Since I have pressed the fabric into place, you don't fill the areas completely, as you would with true thread painting.  This allows the fabric to shine through!  Work only around the edges.  Of course, you can put veins on the leaves if you wish, but I didn't make veins because they are suggested in the fabric print.
First I ironed the fabric to Heat 'n' Bond. Then cut the shapes with my Silhouette Portrait cutter.
Here is a sample of my stitching.  It is really easy, and not as precise and exacting the way normal machine appliqué would be.  However, I like the way it looks, kind of weedy!
Here are my steps:
On the back of the piece to be appliquéd, pin a piece of stabilizer, either wash-away or tearaway. I am using tearaway, but I will be leaving it in place.

I used the open toe quilting foot, lowered the upper thread tension to zero, so no bobbin thread would show.

Set the machine at half speed and pushed the pedal to the metal.

As the needle was stitching I slightly and gently moved the fabric back and forth, just enough to catch the edges of the fabric.

Do not trim the bobbin threads on the back, so the top threads won't unravel.
The pattern is available free through Payhip until the end of October.
Click on the photo below to take you to the link.
Check out the prizes and don't forget to leave a comment below if you want a chance to win one!
************************************

Click on the logo above to enter the giveaway.
They are offering a bundle of
30 wt Solid Cotton Thread – Essentials Sampler – 500 yd spools 6 pack
including a pack of Universal Organ Needles.
Value $39.00  
Here is the link to their website: SULKY
************************************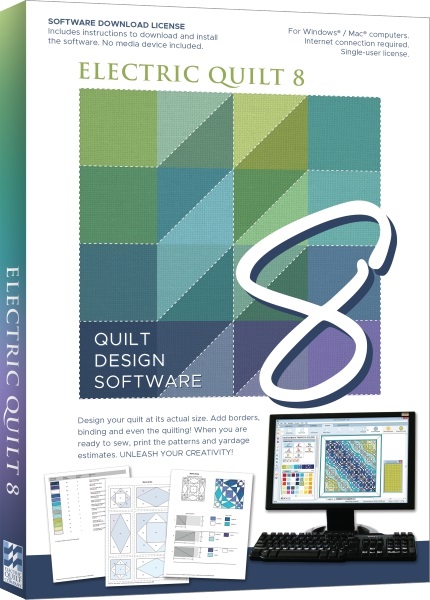 They are offering a 20% discount thru the entire Row Along! And that is just through next week! Use this coupon code:
GARDENPARTY20
This includes everything on their site except for EQ Academy.
Here is a link to their website:
ELECTRIC QUILT

or click on the EQ8 box above
Shipping:

Everything

on EQ's website is available for digital download.
******************************
Here are the remaining Garden Party Row Along Participants!
Thursday, October 01, 2020
bdieges designs
Linda B Creative
Orange Blossom Quilt Design Studio
Sunflower Stitcheries and Quilting
Ursa Minor
Tuesday, October 06, 2020
Bumbleberry Stitches
Charlie's Daughter
Seams To Be Sew
The Quilting Room with Mel
Words & Stitches
Thursday, October 08, 2020
Duck Creek Mountain Quilting
Lynn's Beauty
Quilt Art
Renee's Quilting Addiction
Sew Incredibly Crazy 
***************************** 
Back to the Top
Mountain Mystery Quilt 2020 Reveal!
And here is Mystery #1 of the Mountain Mystery Quilt, six placemats, tablerunner, and hotpad!  
At the Payhip link, you will see photos of some of the other Mysteries.  I picked the second choice for the tablerunner because our table is not long enough unless we put in an extension.  So the other block is for a candlemat or hotpad.
I had planned to have it all quilted and bound, but the last two weeks have been crazy!  Our power company is rewiring our whole area and just about every other day we are without power.  We appreciate the work to keep us safe, but it has put a real dent into my sewing.  I suppose I could have used my treadle machine.  Yes, I have one of those which is in good working order, but I don't have the 1/4″ or quilting feet for it.  I know, excuses, excuses!!  I just managed to get all the piecing done and just got the Dandelions and Geese pieced, so I could present the finished Row Along project today. 
The Mystery Quilt will have to wait, hopefully, it will be all ready for Thanksgiving!
---
---
Click below to take you to the 2020 Quilt Along and Mountain Mystery Quilt.
Remember the free version goes away at the end of the month!
2020 Quilt Along and Mystery
My Classes at Academy of Quilting
---