Garden Party Show 'n' Tell
Take a look below at some of the wonderful projects that have come out of the Garden Party Row Along.  My daughter sent me this picture of a dandelion puff, just before her daughter picked it to wish and blow.
And my row all finished.  Click on the picture below to take you to the pattern.  It is free until the end of October.
I don't need another quilt, but I do need to make more table settings, so I know I am going to be using some of the Garden Party Rows to do that.  Hopefully, the Mountain Mystery will be all finished for Thanksgiving.
I didn't use the dandelion design on the placemats because the plate would sit on top of it anyways! Keep it simple, is my way of thinking about it.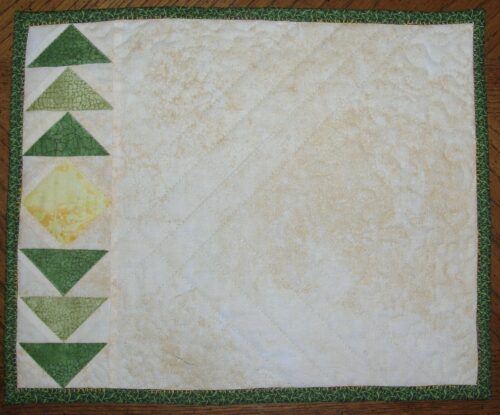 This project was made with all Northcott fabrics, except for two of the yellows in the dandelion flower and the gray fabric for the puff:
******************************
Blue Heron Quilting
The Devoted Quilter
Kissed Quilts
Daughters of Dorinda
Kathleen McMusing
Ms P Designs USA
Clever Chameleon
Miss Loreen's Schoolhouse
bdieges designs
Renee's Quilting Addiction
Words & Stitches
Seams To Be Sew
---
---
Click below to take you to the 2020 Quilt Along and Mountain Mystery Quilt.
Remember the free version goes away at the end of the month!
2020 Quilt Along and Mystery
My Classes at Academy of Quilting
---