Zoe's Quilt
Working on my nieces quilt, it was supposed to be for her wedding, and since she has been married a year, it is more like a first anniversary quilt.  I am just so slow on getting things done.  Now that the baby quilts are done, this was my next HAVE TO GET IT DONE project.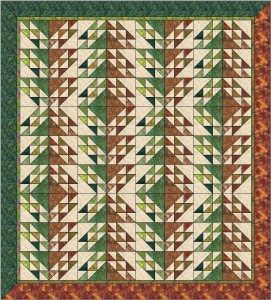 I designed the quilt with Electric Quilt 7, using the North Wind block.  It is enjoyable using a quilting program to design a quilt, since you can preview fabrics to see how it looks.  Then you get to play with the blocks, flipping and turning them to see how they would look best.  It even gives you the amount of fabric you need.

She said she likes greens and autumn colors, so I hope it suits her.  It is a scrappy coordinated quilt.  Love using all my batiks, those are such wonderful fabrics to cut and sew.  Those are leaves from our Black Oaks, just now they are beginning to to turn color.

I have always loved this block, learned originally how to make it by hand, in a class with Sandy Fox.  Have made just a few on the machine, because of all those triangles with their bias edges.  No thank you.  Well, now I will be making it a lot, because I came up with a new way to make this block, a new Sew-fasst® technique, yayyyy! I hate cutting triangles, but I love using triangles in my quilts, sooo I just cut rectangles to make it, no triangles or even squares to cut, or bias edges to sew.  Did I say rectangles?  Yes I did.
It works easier when you use just two fabrics, so I have been straining my brain to make each block with the same six shades of greens or rusts, and not repeat the fabric within the block.  It would have been easier to make it totally scrappy with just darks and lights, maybe that is the next quilt.  I am working on one quilt and the next one is already on my brain!

Thought I would quilt it in an overall leaf pattern.  Hopefully it will be done by next month.

Tags: batik, Electric Quilt, north wind block, Sewfasst