Stars 'n' flowers Finished!!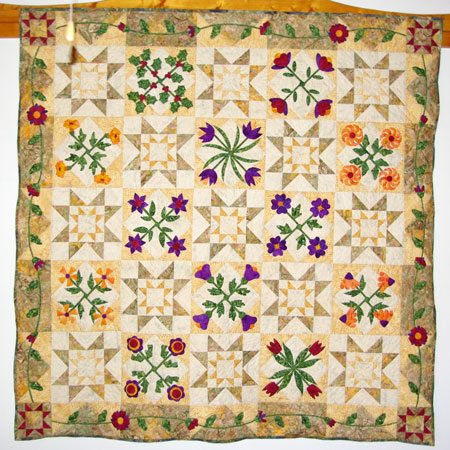 The quilt is finished! Nothing is ever perfect, but here it is.  Trying to figure out what to do about the ruffly edges.  I might try steam.  If someone has a better idea, let me know.
Originally I had planned to quilt it in a floor frame, but decided to go with doing it in my lap, using my hoop.  Should have stayed with my original plan.  Does make a difference, because the tension is even across the quilt.
I was delighted to find the binding fabric at Debbie's Fabrics here in Tehachapi.  I think it is the perfect choice, it blends in with the rest of the fabrics, but is dark enough to frame it.
Tags: appliqué, binding, block-of-the-month, border, hand quilting