Blast from the Past
Several years ago I was in charge of workshops at our guild here in Tehachapi. I designed a couple of mystery quilts for them and there was a great response.   Then out of the blue, it was brought back to me through two friends.  One is moving and not quilting anymore, so she gave me the instructions because she didn't want to just throw them away.  The other is a picture of the finished quilt and I just love her color combination.
Since I put the second Mystery Quilt on the blog a few years ago, why not put the first one on.  So that will start in April and run until September!  Something else will be coming up in September, the Row Along!  I hope I can keep up with all of it!
********************
Another Waggly Tail, just a single block from Trinity, who is incorporating it into a memory quilt she is making.  the dark background really sets off that puppy!  This is  what she had to say about it: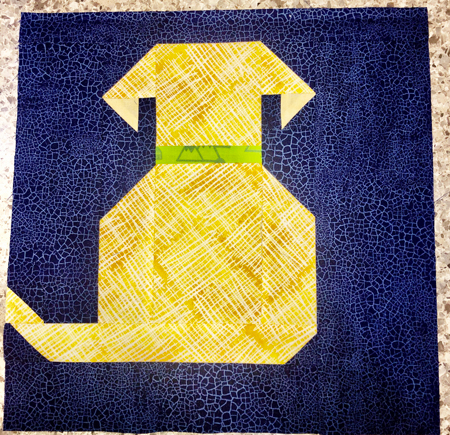 I turned it into a 12" square as a part of a story of my memories of my dad's cabin/house  This is "Molly Bird" the best yellow Labrador.
*********************
I am still hand quilting like crazy, finally have gotten to the border, so I haven't had the time, with only two hands and one brain, to get anything else done for the Quilt Along, except a quick and accurate way to do Four Patches.
I am using Four Patches for the insert to make the Hearts 'n' Daisies Quilt longer. So click on the Quilt Along to get the instructions for making scrappy Sewfasst® Four Patches.
To make the quilt longer I measured the center width of the quilt which is 40-1/2″.  In order to get an amount that is workable, I divided by 9, which would be 4-1/2″ finished Four Patches.  Those Four Patches would be too large and overwhelm the quilt, so I divided by 18, which makes more reasonably sized Four Patches.
That means I am adding three rows of 18 2-1/4″ Four Patches, top and bottom, to add 13-1/2″ to the quilt.  To do that I am cutting 27 3-1/4″ squares from 27 different fabrics and 27 from the background, for 108 finished 2-1/4″ Four Patches.
I told you I still had those peach fabrics and the green ones too!  I guess I am a fabriholic!
---
---
Click on the link below to take you to the 2020 Quilt Along.
Make sure to download it, because the free version will go away at the end of the month:
2020 Quilt Along
---

Tags: appliqué, block-of-the-month, cake, Electric Quilt, pumpkin