Quilting, quilting, quilting!
Posted on

February 1, 2020

by

bdieges
Hand quilting four hours a day, hoping to get my Wreath of Flowers quilted for the Glendale Quilt Show, March 28-29.  Hope I am going to make it!  My wrists just can't take any more quilting than that.  Trying to keep the quilting fairly simple.  Just working on the setting triangles and the borders still need to be finished!   And then there is the binding!
Here is the quilt block for the quilt along and below it is the finished quilt.  Instructions for a pillow top and table runner are included.  
Click the 2020 Quilt Along below, to get the link for the block.  The pattern for the quilt is available for a small fee.  
The quilt top needs to be lengthened so it would cover my granddaughter's bed.  It is something I need to get out of my studio and on to her bed, hopefully by her birthday in May.
How to lengthen it though, has been the question.  I know I need to take off the top and bottom borders, but then what? Remove the bottom border, make five new hearts and lengthen the side borders?  But then it will be out of balance.
Another option is to insert a row of Nine Patches or other patchwork blocks, both at the top and bottom?  Here are two versions from EQ with the insert. I think would be the simplest thing to do.  Although I made this quilt at least 10 years ago, I still have some of the fabrics!  I am a quilter, after all, we never discard fabrics!  What an awful thought!!
Something else came up on a Facebook Page I follow that I thought we could talk about.  What kind of thimbles do you use to avoid calluses?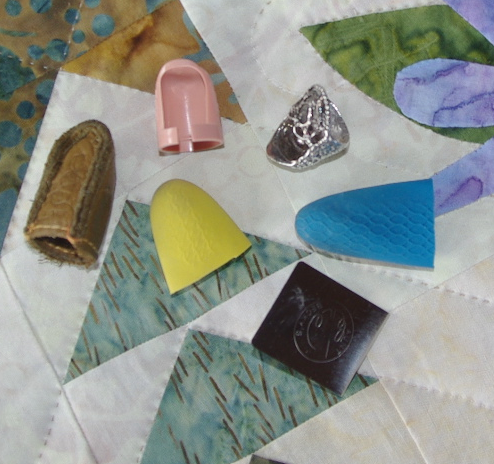 I don't seem to have an issue with calluses. Maybe it is because I use so many thimbles at the same time! For applique, I use TWO thimbles, a leather thimble from clover or the cheap open pink plastic thimble and the tip of a rubber glove for pulling the needle on my forefinger or thumb. I don't push the needle through so hard when I am appliqueing, more brushing the needle across the under finger.  Don't know any other way to explain it.
For quilting, I use FOUR thimbles. Two rubber glove tips for my thumb and forefinger for pulling the needle, a silver thimble from TJ Lane for my middle finger and Aunt Becky's Finger Protector underneath. 
I have also used Aunt Becky underneath for applique. Takes a little getting used to, but works.
Would love to hear about how you deal with this issue when appliqueing or quilting, please comment!
******************
Betsy has taken another step to finish her Alphabet Garden Quilt.  Love the blue, is a great setting for the blocks.
---
---
Click on the link below to take you to the 2020 Quilt Along.
Make sure to download it, because the free version will go away at the end of the month:
2020 Quilt Along
---

Tags: appliqué, block-of-the-month, cake, Electric Quilt, pumpkin, thimble