Sharing some puppies!
As I said I might post if there was something special to share.  I received these pictures of Waggly Tails and just had to share them with you.  Seeing my patterns in fabric is very special to me.
This one was made by Carol for a St. Bernard shelter in Colorado, which was auctioned off for $2000!  Love the way she adapted the pattern to make it look like a St. Bernard.
************************************
Pauline made this one to decorate her sister's dog grooming shop in Montana.  Using different fabrics for all those puppies is so cute!  She started it three years ago and finally finished it!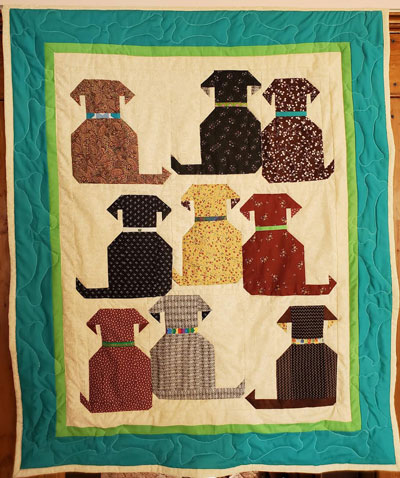 Would love to see what you are all doing out there with my other patterns and the Blocks of the Month!
---
---
Don't forget to check out the online classes at the Academy of Quilting!
On-Line Classes at the Academy of Quilting
---

Tags: block-of-the-month, BOM