February Block of the Month
The Stars 'n' Flowers quilt has become a major priority, since it must be done by the second week of March, in time for the Glendale Quilt Guild Show. I am in the process of quilting the third side, but  since the quilt is pretty much a sitting-on-the-couch project, that is all I am going to work on for the next month.  One more side, but it does have to be bound as well.
The January block, is in my take-along bag, so I will be working on it, appliquéing by the mile.  Good thing I can do that in the car.  My husband drives 99% of the time, so I like to keep my hands busy.  Knitting is easier to do in the car, but appliqué works too.
Here is a photo I took of primroses in Carmel a few years ago, in February.  Unfortunately, I don't have any pink with yellow batik in my stash, so the colors aren't going to match.  It is all about inspiration, not slavishly rendering everything exactly as it appears.  My leaves are a different shape than primrose leaves.
These are the fabrics for the February block.  I picked a mottled orange with yellow and a dark fabric that is purple with some brown in it, for the flower centers.
I laid out the petals on the fabric, so that the yellow is at the tip.
Fussy cutting does waste fabric, but I really wanted the look of the color gradation.  I had picked the leaf fabric more for the colors, but when I really looked at it, there was this neat little leaf pattern.  So once again I placed the leaves to capture the pattern.
Did you notice there is no point at the tip of the petal?  At the bottom of the pattern, you will see the whole template exposed.  The points would only be covered by the center, so no reason to make a point.
When I pressed the upper part of the petal, instead of making a sharp "v," I snipped the seam allowance, 2/3 of the way, three times, once at that "v" and then on either side of it.  That snipping provides enough of a stretch in the seam allowance to give it a gentle inner curve.  Then I brushed it with the Best Press and pushed it over the edge of the doubled freezer paper with the tip of the iron.
Just make sure that you lay out the petals close enough, so that area will be covered by the 3/8″ center.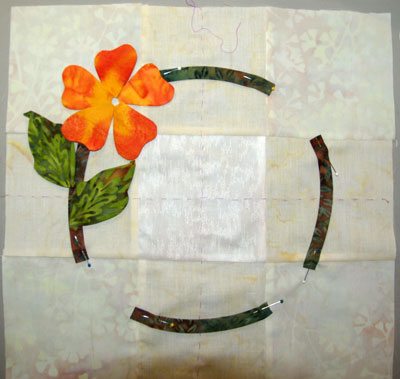 If you missed any blocks, and this link will take you to the pattern page.
Tags: appliqué, batik, block-of-the-month, BOM, freezer paper, fussy cutting