It's a Mystery
Do hope that all of you are doing okay with all that is going on. Before I present the first clue of the mystery to you, I just wanted to let you know that I did finish quilting the Wreaths of Flowers quilt with two weeks to spare!  However, the quilt show, like many others, was canceled because of the virus.  At least I got it to the point of finishing.  All that is needed is the binding, label and hanging sleeve.
I don't know why I feel I have all kinds of extra time, but it just feels like it.  Before, we would go to town, 20 miles away twice a week.  Once on Sundays to go to church and P.O.  Then again on Wednesdays to do errands and grocery shopping.  Now we are only going once a week to do grocery shopping, P.O. and errands, but it feels different.  Since our church is closed indefinitely, we watch the Catholic Mass on the computer.  Still, I seem to have extra time!
I am finishing up the Hearts 'n' Daisys quilt and a few other UFO's that have been sitting around for a long time, it was tempting to get into those, but I managed to steel myself to put them aside and finish my granddaughter's quilt top, so guess what I will be working on next!
What I do not understand is why the Four-Patch border was half a patch too wide for the center of the quilt.  I measured the width of the center and it came to 40-1/2″, divided by 18 = 2-1/4″, which is a nice perfect number, no weird odd number thank goodness.  So I measured carefully and cut all 54 squares exactly 3-1/4, using the Scrappy Sewfasst® 4 Patch method.  Then I sewed with what I thought was a scant 1/4″ seam allowance.  How could it be off exactly one 1-1/8″ square?  All I can think is that even though I have a scant 1/4″ S.A. when you have that many seams, 34 to be exact, one thread off for each seam would end up being too much.
Oh well, at least it fits!!
Here are two UFO's I pulled off the shelf.  Both are king size quilts, with a good portion already cut out and sewn!  Star Clusters is a bright scrappy summer quilt and Forest Constellation, which uses several sizes of stars, is based on my Starlight! Starbright! Quilt pattern.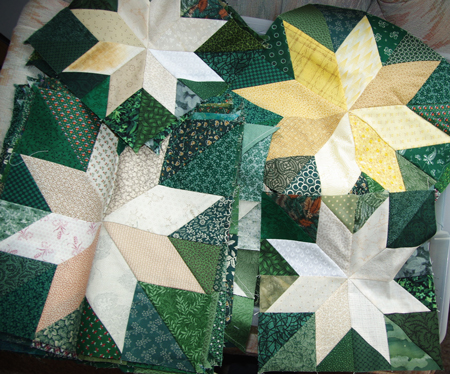 Then I decided to remodel a tablerunner and placemats I had made with this Bargello Blocks pattern.  The tablerunner was too wide and there were only four placemats.  So I cut the tablerunner into thirds, trimmed the corners of one piece and found the original binding fabric in my stash that had already been cut!  By cutting a placemat from each end of the table runner, I had just enough binding left from the center edges to finish the raw edge of each placemat.
*********************
If you would like the Twisted Ribbon quilting design that I used in the border for the Wreath of Flowers quilt, it is available as a .svg file for your cutting machine.  If you don't have a cutting machine, it is also available as a .pdf file.  You will get all three files.
Click on the picture to download the .svg and .pdf files.
********************
Trinity is still working on her memory quilt but introduced her friend to Waggly Tails with a few changes because her friend's dog is a black German Shepherd.  This was her friend's first attempt at making a quilt!  She did a very nice job.
*********************
MYSTERY QUILT 2020
I hope that some of you will actually participate in this mystery and share what you are doing, please don't just collect the clues.  This was first presented to the Tehachapi Mountain Quilters in 2009 and they turned out some beautiful quilts, and I will share the pictures of those quilts in October and I hope some of yours too.
There are ten projects from placemats and tablerunner to a king-size quilt.  Here are my fabrics for the placemats and tablerunner, I am using blue and white to go with my china. 
The clues will be available in my Payhip Shop for free for one month.  It will work the same way as the BOM each month, at the end of the month it will go away and the new clue will be presented.  The reveal will happen in October!
There are two parts to the first clue, the introduction with the fabric requirements for each project and the first clue.
---
---
Click on the link below to take you to the 2020 Quilt Along and Mystery Quilt.
Make sure to download it, because the free version will go away at the end of the month:
2020 Quilt Along and Mystery
---

Tags: appliqué, bargello, block-of-the-month, mystery, stars