Let the Destashing Begin
You are probably thinking what does she mean by that!
I should have started this months ago, actually did but then got distracted!  Just do it! As my mother used to say, (long before Nike came up with it) but I am a procrastinator and now we are getting down to the wire!  As I said previously we are moving to a smaller house and I really need to divest myself of most of my fabric.  This picture was taken a number of years ago.
Those two cabinets contain less than half of my fabric.  This month I am posting pictures of all the Red Fabrics.   Hopefully, some of you might be interested in moving them to your house!
Click here or on the picture above to take you to the page where all the fabrics are listed.  Down the road, some of my quilts will be listed as well.
*********************************
I love the Lemoyne Star but do not like inside corners, especially for machine piecing, hand piecing is no big deal. So this month I am sharing a block that I used in my quilt Starlight! Starbright! It is an easy way to make a Lemoyne Star and makes it more interesting as well.
Over the years I have collected a lot of plaid fabrics because my son always wanted his quilts made using plaids.  Even used his and my husband's shirts after they had worn them out.  The back of the shirt was usually still in good condition.  If you are interested in plaid fabrics let me know in the comments below.  They will eventually be part of the destashing page as well.
These pillows have only one background fabric, instead of being scrappy.
And here is a star quilt that is all pin-basted and ready to machine quilt!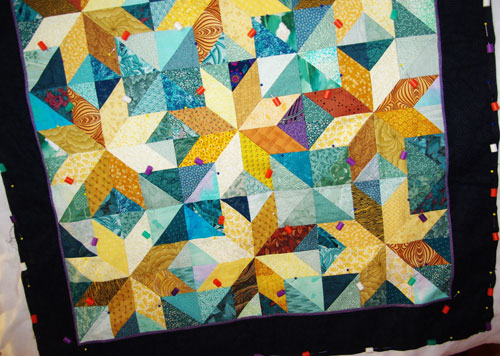 *********************************
Isn't this a wonderful idea?  Dogs and cats in one quilt!  Debbie made this as a fundraiser for her local pet shelter.  I am going to have to combine Waggly Tails and Nine Lives to make a quilt for my grand-daughter!
---
---
Click below to take you to the 2021 Quilt Along.
Remember the free version goes away at the end of the month!  I also have some online classes coming up!
2021 Block of the Month
My On-Line Classes at Academy of Quilting
---

Tags: block-of-the-month, BOM, destashing, Electric Quilt, EQ, fabrics, paper piecing, piecing