Happy New Year!
Posted on

January 1, 2021

by

bdieges
We have a lot to look forward to in this new year!  Although 2020 might have made us think of perfect vision, it didn't quite work out that way!  That is one thing about rational beings, we can always look forward!  This coming year I will be sharing pieced blocks with you. Please make them and share photos with us!!  Maybe this year you will do that, maybe?
Since I am going through my fabrics, I have decided to keep a few to make a scrappy quilt with Flying Geese.  I really like the way the patches seem to swirl.  Since I need two more king-size quilts, this will be one of them that I will be working on, while cleaning out!  This one uses one of my Sewfasst®Techniques, so it makes it a little faster to put together and there is no wasted fabric.
*****************************
As if one house isn't enough to remodel, I am remodeling two!!  Here is the one I showed you last month.  Big improvement.  I was able to get small samples of paint from Home Depot.  They come in containers that hold about one cup.  Just enough to paint the rooms, floor, and roof.  Our granddaughter loves pink, so the bedroom is pink!  She went through the furniture that I still had and decided she needed a quilt frame and sewing machine.  I thought that the attic would be another bedroom, but she turned it into a sewing room!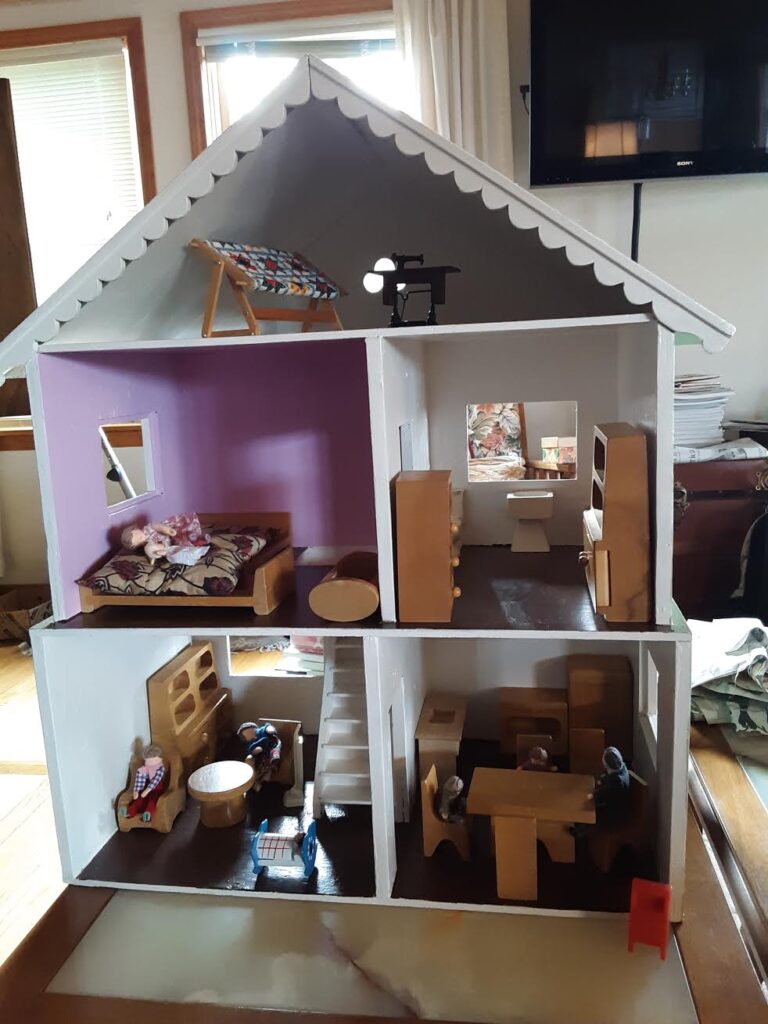 *****************************
I have these really nice Japanese teacups, without handles, so holding them with hot tea is not ideal, so I thought I would make something to wrap around them, but what? So I Googled it.  The problem with Googling is, which word to use. 
Accidentally came across the word "sleeve."  There were several websites but I downloaded the pattern for a continuous sleeve from this crafting website.  She has two very good videos on how to make them for those paper or plastic cups you purchase from restaurants.  I also found this website for making a sleeve for a cup that has a handle, so it has a button.
The problem is that my teacups have a much different shape.  They are more or less cone-shaped, but no point, which is called a truncated cone.  That was a new term to me!  Never too old to learn!
Did some more searching and found this website for figuring out how to make a pattern for this shape.  All you need is a ruler with millimeter measurements, a compass, and a protractor. I happen to have all of those tools, but hadn't used the protractor in ages! 
After drawing the pattern, I followed the directions for making a continuous sleeve since I didn't need buttons for these cups.  Used some of my Japanese fabrics, which made a nice pairing, and they make a great holder for these oddly shaped cups!
---
---
Click below to take you to the 2021 Quilt Along.
Remember the free version goes away at the end of the month!
2021 Block of the Month and Quilt Along
My Classes at Academy of Quilting
---

Tags: block-of-the-month, BOM, Electric Quilt, EQ, paper piecing, piecing