Row-Along is about to start!
Posted on

September 1, 2019

by

bdieges
Get your engines revved ladies!!
The Once Upon a Story Row-Along starts the day after tomorrow on Tuesday, September 3.  My day will be September 17. 
  I have had a look at some of the rows/blocks and they are awesome! Thank you, Marian, from Sew it Seams for putting this on again!  this is the fifth year, I have only participated for four of those years, counting this one.
Once again Marian has obtained incredible prizes, and all you have to do is comment on each site you visit to have a chance to win.
Here are the Northcott fabrics for my row. What do you think I am going to do with them? 
*******************************
Lots to share this month!  Really enjoy receiving pictures of quilts you have made from my patterns.  Here is a Waggly Tails quilt from Nan, who made this for her grandson.  Says she had been looking for this kind of pattern for a long time! 
Here are more blocks from Betsy, she was really busy this month. So looking forward to seeing the finished quilt top! 
Jennifer got the borders attached before school started.  I am in the middle of quilting the same quilt.  Just not hand quilting weather right now!  Hope to have it finished for the Glendale (CA) Quilt Guild Show in March!  I will keep you posted. The pattern is available as an E-book in my Payhip store.  Click on the photo.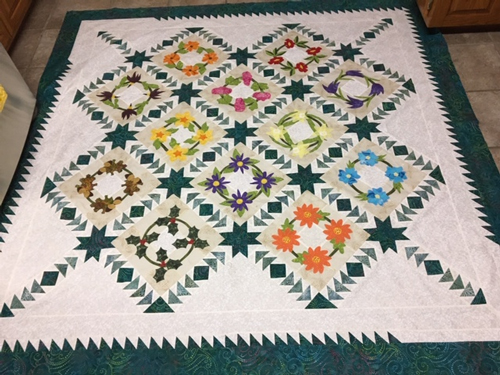 I also got the top and bottom rows attached to the Floral Alphabet Quilt!  Step by step we all get where we are going! 
*******************************
Here are the ones I have made for the past Row-Alongs if you are new to my blog.  If you are interested, the patterns are available at Payhip, just click on the picture. 

---
---
Click on the link below to take you to the third part of Fall 'n' Leaves:
---

Tags: appliqué, block-of-the-month, Electric Quilt, Row Along