My Row-Along Today!
Posted on

September 16, 2019

by

bdieges
My day is here!!
It is always fun to try and come up with something when a theme is presented to you. When Marian from Sew it Seams first talked about "Once Upon A Time or Nursery Rhymes" for the Row Along, Hickory Dickory Dock sprang to mind, but once I got down to the wire of what I was REALLY going to do, I chose Two Little Dickie Birds instead.  Once again some great prizes are being offered to those who comment.
I was looking through my children's old nursery rhyme book and found this rhyme about two little birds.  Somehow it struck me right then and there that was what I had to do.  The pattern is available at Payhip for free until October 15, 2019.
Two Little Dicky Birds, sitting on a wall.
One named Peter, one named Paul.
Fly away Peter, fly away Paul.
Come back Peter, come back Paul.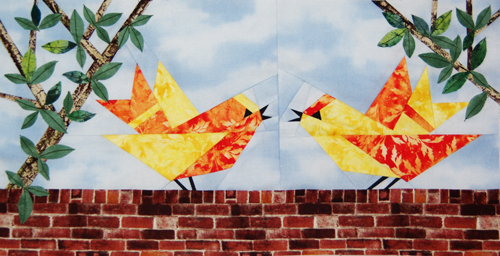 Click on the pic for the pattern link!
At this point, it isn't quilted.  I am thinking of making a quilt with it including more blocks.  Here is the setting that I think I will use.  Just have to make four more blocks!  Designed this setting with Electric Quilt.  Very handy!
Every year Northcott is so generous for giving fabrics to all the designers for their Row-Along designs.  Check out what they are giving away below!  
In the pattern, instructions are included to construct your own wall as shown in the illustration below.  I decided that I would go with the bricks.
*******************************
Don't forget to comment below if you want to be entered to win this prize.  Love EQ, it is a very big help in designing my quilts and Dickie Birds is one of them.
NOTE! There may be a problem with Rafflecopter trying to register for the prize.  Marian is working on it
a Rafflecopter giveaway
*******************************
Here is what Northcott will give to a lucky winner.
**************************************************************
Here are the three rows I have made for past Row-Alongs.  "Tea for Two" and "Angels We Have Heard on High" were both made with Northcott fabrics.  If you are new to my blog, the patterns are also available in my  Payhip store, just click on the picture. 

---
---
Click on the link below to take you to the third part of Fall 'n' Leaves:
---

Tags: appliqué, block-of-the-month, Electric Quilt, Row Along