Now The Year is Half Over!
So sorry if you received an extra email from me last month.  I try to write on the blog as I go through the month and hit the wrong button!  I am sure none of you have ever done that! 
****************
As I write this blog, this is the view from my studio window. 
No, it is not December, January or February!  Today is May 27!  We received at least 2″ of snow last night.  So posting about my cable vest pictured on my Snow Crystals quilt is not inappropriate! 
Since we have been driving to and from town so much, I reknitted this vest because I have lost so much weight since my first knee surgery.  I was going to do a simple K3P3 rib but decided to use a cable pattern to make it more interesting.  I love fishermen or Aran knit patterns and it is based on one of those. 
****************
More beautiful blocks from Betsy.  Love that touch of embroidery she used on the star flowers block.  If you have any blocks, even if they aren't finished, please share them with us. 
****************
This last month I have been busy trying to keep up with family requests.  Back in 1984, I made Christmas stockings for my three children.  My sister who lives in England AND my daughter asked me to make Christmas stockings based on those, for my grand niece, nephew and my grand-daughter.  I may have said it before, "The faster I go the hehinder I get!
I figured I must still have some of that Christmas fabric hanging around, nope, all gone.  I did find the stocking pattern and the cross-stitch charts!  So even with all the boxes of fabric I have, I had to go buy some.  Horrors!  I finished the cross-stitch for my grand-daughter but my sister is going to cross-stitch the ones for her grands.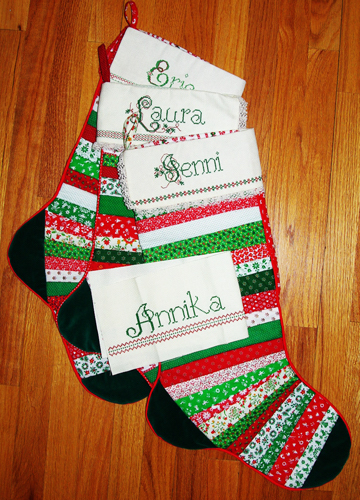 ****************
Another item that has kept me running is getting ready for the Once Upon a Story Row Along hosted by Seams To Be Sew. This is actually the 5th anniversary of the row along and the fourth year that I have participated.
This year the "rows" are based on children's stories, fairy tales or nursery rhymes and are designed as blocks of various sizes and shapes, not actual rows, so it is a little twist on the term Row Along, maybe it should be called Block Along!
It is always fun to try and come up with something different.  I had planned on one nursery rhyme.  However, as I looked through a book of nursery rhymes I changed my mind instantly when I saw another one.  No hints, just that it is a nursery rhyme!
---
---
Click on the link below to take you to the third part of Summer Delight:
---

Tags: appliqué, block-of-the-month, Electric Quilt