Grand-daughter's Dress Again!
I have been so busy sewing that I haven't found the time to post anything.  A couple months ago I posted a "practice" dress that I made for our granddaughter, as a trial run for her First Communion dress I was planning to make.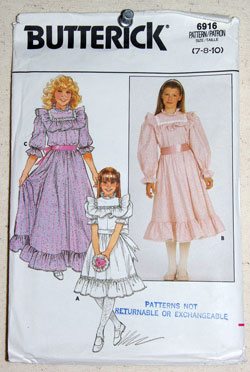 As I said then, the hardest part of sewing for her is that she is far away from me, so I can't just try it on her. 
I started with this pattern, which I picked up at our free table at the guild, and was more or less faithful to the design for the first dress, although I did not use all those ruffles.
The inset was a real pain and since I wasn't inserting ruffles, I decided in the final dress to leave that out and simply sew the trim on the top.  There was no need to make corners either, because nice corners are harder to do and a curved trim would look just as nice.

Here is the final version.  Does this dress look smaller?  By a long shot!! The first dress was so large on her that I thought I was dropping a tent over her head.  She is eight years old, but about a size 6, so I had to drastically alter the width of the pattern pieces, although the length is fine.

I hand embroidered some lazy daisy flowers in the bodice, with French knot centers, using #8 pearl cotton.  I thought about following the leaf design in the fabric, but decided on Keeping It Simple!
Hopefully the next post will be my Stars 'n' Flowers quilt top all put together.  Just finishing the applique on the last border strip.