Cat got the Canary
What????  Just a quick note to let you know what I have been up to this month, besides appliquéing.  Completed some MENDING!!  What a concept for a quilter and worked on the following project too, which only took a couple hours.  This was more to my liking.
I really enjoy Laurel Burch designs, especially her cat designs.  Have several items with this theme–T-shirt, sweatshirt, mug, journal–I think that covers it.  Consequently, my daughter bought me this purse for Christmas several years ago.  
I ended up using it for my handwork, but it really wasn't deep enough for what I needed, because the intended purpose was to be a purse.  Didn't want to discard it, but also didn't want to simply store it away.  I wanted to continue using it, so I made it taller.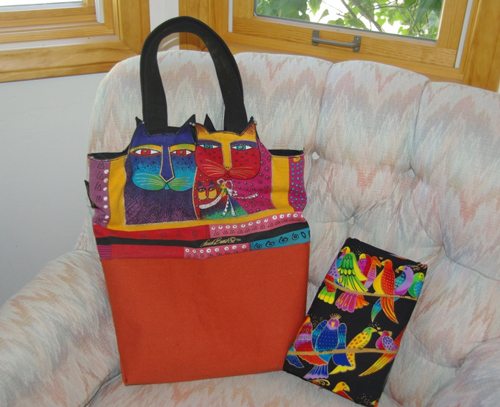 Opened the seam on the bottom and added the canvas with a box pleat on the bottom.  
That also meant I had to extend the lining.  Had this bird fabric in my stash, which is also a Laurel Burch design.  Just couldn't resist.
Are you ready for the June blocks?  Yes, in June you will be getting two blocks so that we get the 13 in for the year.  Look for the email in your inbox on June 1.
Tags: alphabet, appliqué, batik, block-of-the-month, BOM, Craftsy, fabric, flowers