Angels We Have Heard on High!
Angels we have heard on high
Sweetly singing o'er the plains,
And the mountains in reply
Echoing their joyous strains.
Gloria, in Excelsis Deo!
Gloria, in Excelsis Deo!
Click on the picture to download the PDF pattern.
Welcome to the fourth day in the 3rd Annual Row Along.  Thank you, Marion Pena, from Seams to be Sew for inviting me to participate in the Row Along and all your hard work finding sponsors for the generous giveaways.
This Christmas Carol has always had a special place in my heart, but especially now because of where we live.  I can hear the refrain in my head echoing across our valley and mountains, especially when we have a snowy Christmas.  This doesn't happen too often, we are more likely to have a snowy Easter than Christmas!
Originally, the pattern started out to be paper-pieced, but once I started working with the large patches of fabric, it wouldn't work, at least for me.  I devised another method that is explained in detail in the pattern.  Also, the pattern measures 12″ wide x 40″ tall.  I was so intent on using it for a background for our creche which needed to be 40″ tall that I missed the requirement that it was to be 30″ long or tall, but Marian said it was okay.
Please leave a comment below so that you are registered for all four prizes.
a Rafflecopter giveaway
The fabrics for the sky, hills, and the village of Bethlehem are all from Northcott, who so generously donated fabrics to all the designers.  The starry sky is from their Magic of Christmas collection and the hills and Bethlehem village fabrics are from their Toscana collection which comes in an incredible selection of colors, but all with that soft muted look of suede, but a silky feel.  Beautiful fabrics to sew and handle.
Then there are the very practical sturdy cutting mats from Calibre Arts.
a Rafflecopter giveaway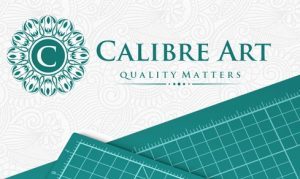 When you go to the listed designer's blogs on their release dates, you can download their "Christmas Carol Row-A-Long" patterns for free  
The patterns are available free for one week after the bloggers featured day, so don't procrastinate!
On top of that, on each blog, you can enter to win great quilterly items, donated by a number of different companies.  Each blog will feature different prizes that are available on that day.  Just make sure you comment on each blog to be registered for the prizes.
I will be keeping the schedule here on my blog.  So check back every Tuesday and Thursday until October 5 to make sure you get all the patterns.
I will be giving away five signed copies of my book.
a Rafflecopter giveaway
And it keeps getting better with a gift certificate from The Electric Quilt Company, a great company whose software I use all the time to design my quilts.  Unfortunately, I can't make quilts as fast as I design them.  Maybe someone could design little quiltmakers to whip out all those quilts?
a Rafflecopter giveaway  
Restrictions: EQ has restrictions for this giveaway, it can't be used for:
(Exclusions apply – Does not apply to EQ7, EQ7 Migration Kit, EQ Mini Migration Kit, EQ Mini Upgrade, EQ University)
Christmas Carol Row Along Participants!
Tuesday, September 5, 2017
Quilt Affection
Any Pattern
Just Let Me Quilt
Quilt In Piece
Kissed Quilts
Thursday, September 7, 2017
Daydreams of Quilts 
Seams To Be Sew
Be A Quilter
Creatin' in the Sticks
Fun Threads
Tuesday, September 12, 2017
Sew Incredibly Crazy
Masterpiece Quilting
Sugarlane Designs
Happy Sewing Room
Everyone on today's schedule–Thursday, September 14, 2017
bdieges designs ME
Cynthia's Creating Ark
The Quilted Snail
Ms. P. Designs USA  (sponsored by Just Let Me Quilt)
Tuesday, September 19, 2017
Jaded Spade Creations
Adventurous Applique and Quilting
UlaSewing / SzycieUli
From Blank Pages
Thursday, September 21, 2017
Martina Latimer
Quilt Fabrication
Patchwork Breeze
Patti's Patchwork
Miss Loreen's Schoolhouse
Tuesday, September 26, 2017
Cheryl LaPlante  (sponsored by Quilt In Piece)
Morning Glory
Pampered Pettit
Fun Threads
Thursday, September 28, 2017
Mountain Meadow Designs
Quilt Art
Made By Marney
Renee's Quilting Addiction
Tuesday, October 3, 2017
Mary Mack's Blog
Kathys Kwilts and More
Pamela Quilts
Duck Creek Mountain Quilting
Heleen Pinkster
Thursday, October 5, 2017
Seams To Be Sew
A Dream and A Stitch
Upstairs Hobby Room
Words & Stitches
Guidelines for Giveaways.  

Please take the time to read this.
Giveaways offered by sponsors are assigned to the various bloggers for their featured day.
There are no prior announcements on who is doing which sponsor except to the sponsor themselves.
You'll have to visit the blog or the featured blog to enter the giveaways.
Not all giveaways can be entered at Seams To Be Sew.
I will start announcing winners on September 12, 2017, and finish announcing winners on October 12, 2017.
In most cases, the blog where you won at also will announce their winners.
You must give a valid email address when you enter the giveaways, any email returned to me, loses the ability to win automatically.
With the exception of Show and Tell Day, all giveaways run for approximately one week.
You are given 3 days to answer the email, if you do not answer within 3 days a new winner will be drawn. Check those spam/junk mail folders, you may miss that winning email if you don't do so because there are no exceptions to this rule.
If you are notified that you are a winner, in most cases, you will need to provide your name, address, city, state, zip code, country, telephone number, and email address.
In some cases, you will be asked to comment on the blog to enter the giveaway… do the right thing and thank them for the time it took to create the pattern, thank them for the pattern and…
Thank the sponsor by buying their products for the giveaways. This helps them continue to offer great prizes for these types of events. You can also comment on their social media pages. Even if you don't win, letting them know you love their products is a huge incentive and they really do love hearing from you.
No purchase whatsoever is necessary.
You must be 18+ in order to win a gift.
You are responsible for claiming and paying any tax owed on the value of any gift that you win. Prizes valued at $500.00 should be claimed.
All winners are chosen at random.
All winners will be announced on the blogs via the Rafflecopter entry form and/or post by the blogger at the site where they won and at

Seams To Be Sew

. All winners must allow for their first name and first initial of their last name to be announced on this blog.
Odds of winning a prize are based on a total number of Rafflecopter entries during each week and in total for all giveaways.
This giveaway is void where prohibited by law.
Participating bloggers may enter any of the giveaways.
The word giveaways in the rules and guidelines are also known as sweepstakes.
Most of the giveaways are international shipping this year.
in some cases, you will be asked to pay for shipping your giveaways.
I am not rich and I do not ask sponsors for money, they provide prizes only.
If they shipped the prize to me, you will be asked to pay for shipping.
All giveaways will be shipped that are in my home within 48 hours of my having heard from you.
An invoice will be sent to you via Paypal, and shipping will take place via Paypal, so your Paypal email will be needed to send the invoice. You will receive a tracking number except for overseas shipments. All shipping will either be sent 1st class which averages out at $2.77 to $4.00 up to 13 ounces. Paypal fees are added to that amount to cover that fee. All fabric bundles from Michael Miller, Hoffman, and Moda will be shipped via Priority Mail to protect the fabric itself.
Please note, every effort is made to protect the prizes. They go into a plastic bin when I receive them, and it is covered by an air tight cover. I have a dog in my home and I have a smoker in my home, so I do everything possible to protect the prizes.
Most companies are very good about getting prizes off to customers quickly also, but some companies are overseas, so please allow all sponsors a 2-week time period before you report to me that you still haven't received your prize. When the company is overseas, it can take 6 weeks to 90 days for an item to also arrive.
Whether or not you read the above, the rules for giveaways are in place to protect everyone. I do not want to hear you didn't read them, they will be posted on my blog daily during each featured day. There is no excuse for not reading them. Marian Pena from Seams to be Sew
Tags: appliqué, block-of-the-month, Christmas, Electric Quilt, fabric, Northcott, Row Along