Stars 'n' flowers Quilting
Have been quilting everyday for several hours since the middle of October.  The blocks are all finished, although after the border is finished I plan to put in a couple more lines of quilting.
The border is next.  I was planning to use a hand towel basted on, to extend the quilt edge, which is what I have used in the past.  I considered buying some terrycloth, to make a longer strip, however something more practical-meaning free-came my way.
At our guild we have a free table which is open to all kinds of donations of quilt/sewing related items.  Someone kindly left a piece of pre-quilted fabric.  I knew it would fit my needs, the minute I saw it.  I didn't realize that it was even better than I had planned, since it measured, 15″x37″, which is half the width or so of the quilt.
If you are wondering what all the fuss is about, when you hand quilt in a hoop and come to the border, the edge will not be caught in the hoop, so it needs to be extended so that the whole quilt, including the border will be under the same tension as it is quilted.
So I cut the piece in half lengthwise, sewed the two ends together, overcaste the edges to prevent raveling and basted it the FULL length of one quilt edge.  Now I don't have to unbaste and rebaste every time I need to move the extension!  I was so excited, I know I am easily satisfied, but it will save time in the long run.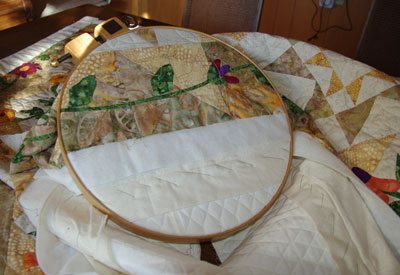 Tags: appliqué, block-of-the-month, border, hand quilting