Appliquéd Leaf Veins
Posted on

October 31, 2015

by

bdieges
I thought this is a good tutorial for appliqueing leaves and using two different fabrics.  It was the November 2015 Block of the Month which is now part of the Wreaths of Flowers Quilt, which is finally quilted.
Our Black Oaks are one of the few native trees here on our mountain that change colors, so we do have a little taste of fall color.  This year was not as colorful as past seasons, maybe it had something to do with the drought.
The vein area is curved for this two-toned leaf.  Those of you who know how to do curved machine piecing on the machine, be my guest, for me, hand appliqué is easier and quicker.
The steps below show how to do it, using freezer paper, some of the steps may apply if you use needle under appliqué technique.
Cut out the Fabric Cutting Template–FTC, which is the shape along the dotted line around the leaf.  I suggest you mark them A and B, you can see even I got mixed up.  Then cut it apart along the vein line.  Make a leaf template, but do not cut it apart, set aside for the last step.
Press the FTC to the two fabrics.
Trim the fabrics around the A and B shapes, but cut a 1/4″ seam allowance along the A vein and about 3/4″ along the B vein.
Press the seam allowance of the A fabric over the edge of the paper.
Turn the pieces over to the right side and make a mark on the front at the edge of the paper on the B fabric.  This will help you align the A fabric.  Remove the paper from both pieces.
Note the arrows at the top and bottom of the orange (B) fabric.  The mark at the top isn't too visible, but the bottom one is.  Align the corners of the A fabric with those marks and baste through the excess seam allowance.  The point is to not place the A fabric too far over the B fabric.
Appliqué the A fabric to the B fabric and trim the excess B seam allowance.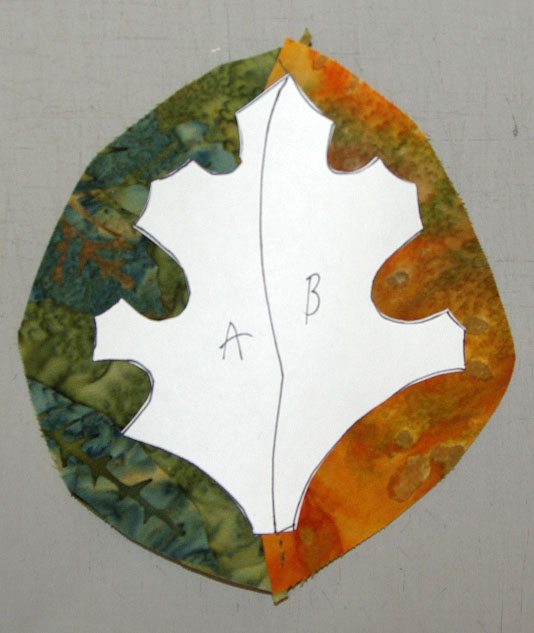 Align the leaf template with the appliquéd vein.  Place the point of the leaf, just where you started the appliqué, you don't want to cut your threads! At the stem end, it won't matter if they get cut.  Proceed with shaping the outer edges with the starch and press techniques.
When you have a stash of fabric, there is a good chance you have the perfect fabric for exactly the right motif.  This fabric was just waiting for me to put it to use for acorn caps, it has been in that bin for about 10 years!
Tags: appliqué, batik, block-of-the-month, BOM, fabric, flowers