It's a Mystery II
So are you all still hanging in there?  These are very interesting times in which we are living.  Not many people I know have dealt with something like this before.  Although I do have family that went through World War II in Europe, so they experienced a great deal of anxiety.
Have you been busy making masks?  I made some for my family using different patterns.  My husband prefers tying his mask because he wears hearing aids.  I like using the ponytail holders because they slip over my ears easily and are just as easy to remove.
I am so looking forward to seeing the first clues from your Mysteries.  I thought I might have received some photos by now, since there have been over 200 downloads.  That must mean many of you plan to make the Mystery Quilt. Right?  Please don't just collect the clues, please make them!
The second clue is at Payhip so check it out at the link below.  Please get started on the clues as we go along, it will come together more quickly that way and you won't be spending hours putting it together at the end, because it will be spread over 6 months. 
*********************
Here is something I did this week unrelated to quilting, but is related to sewing, since it does require a sewing machine. You can make your own teabags.  Your own what???  Yes, homemade teabags. 
For some reason, we have been drinking more tea lately.  I have a lot of loose tea, but don't like using a tea infuser, because I end up with bits of stuff in my tea.  My daughter gave me a package of premade teabags, but it has disappeared.  Searched my kitchen but it is gone.  I will find them now that I am doing this!
I had these filters leftover from an old coffee maker, the new one requires a different kind.  So I decided to make my own teabags from these filters.  Very simple.
Fold the filter in half.
Sew 1/4″ from both sides of the fold.  Maybe it is related to quilting! That's how to sew Half Square Triangles from squares!
Cut between the seams.
Place 1 teaspoon tea in the bag for one cup of tea.  Or for a teapot, each bag holds about 1 tablespoon of tea.

Then fold over the corners, staple to hold all the folds in place and seal the bag.  If you wish to add a label on a string, staple it at the same time.  You could sew the folds in place and tie a tag to the string as well.

I found that these bags float so instead of going to the trouble of d0ing the string thing, I use a clothespin to dip and remove the bag from my cup.  A lot simpler!  I use clothespins for so many things except pinning clothes to a line!

Have a nice cuppa!  I use two ponytail holders to keep the lid from falling off!

Here is a link to making them from the ruffly filters: https://wildwildwhisk.com/diy-loose-leaf-tea-bag/
*********************
Now back to quilting.  I just can't leave well enough alone.  That is me and the way I think!  After pulling out my Starlight! Starbright Quilt I got to looking at it and for some reason it made me think of the Hunter's Star.
What if I extended those background triangles.  So I played with the idea in EQ. 
When I saw the way the rotary cutting key block looked, I wondered if I could cut them from Layer Cakes or 10″ squares.  If I used at least six different fabrics, three dark and three light, it could be scrappy.  Guess what another quilt!!!  No000, I do not need another project… I guess I have one!
Yes, there are repeats of fabric in the four blocks that it takes to make a star, but once I cut up all sixty fabrics they will be shifted around so that you don't see the same fabric in adjacent blocks.  So I pulled out my reds and tans. 
This isn't actually all of them.  In the process of cutting them up, the leftovers are being cut into 2-1/2″, 3-1/2″, 4-1/2″ strips.
*********************
Here is Waggly Tail from Lea.  She made this for her daughter-in-law and was careful to leave bones out of the border quilting, because her DIL is vegan and her dog is vegetarian!  Love that little dalmation!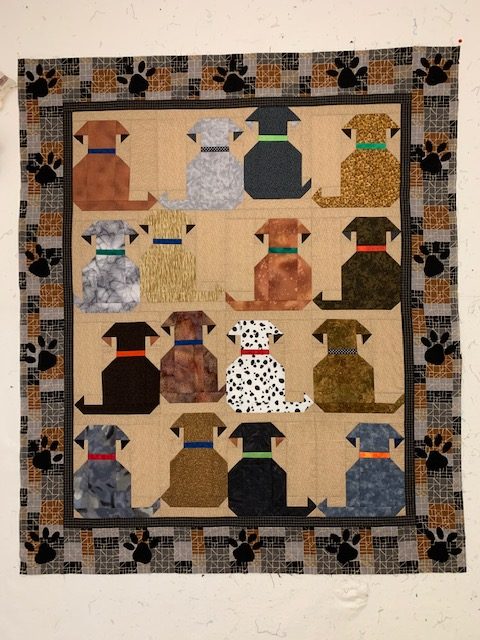 *********************
MYSTERY QUILT 2020
You will notice with the new clue I changed my background fabric.  I thought it was a better match with my china.
Remember the clues are available in my Payhip Shop and are free for only one month.  At the end of the month it goes away and the new clue is presented.  The reveal happens in October!
---
---
Click on the link below to take you to the 2020 Quilt Along and Mystery Quilt.
Make sure to download it, because the free version will go away at the end of the month:
2020 Quilt Along and Mystery
---

Tags: appliqué, bargello, block-of-the-month, homemade teabags, mystery quilt, stars