September 2017 Block of the Month
My wild rose.
These bloom every spring through the summer and are deer resistant, not like domesticated roses and have been very inspirational.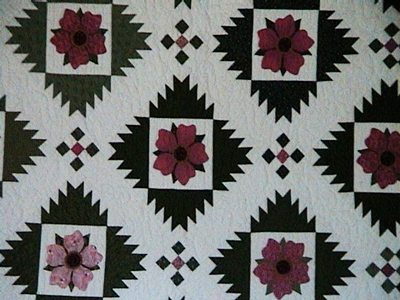 This quilt was included in my book "A Thread Runs Through it…." published in 1999.  I still have copies available at a special price, if you are interested.  You can see more quilts from the book on this page.
Here is the block for September.  Refer to the tutorial for layered appliqué to see how to appliqué the petal tips.
In order to make French Knots on stalks, I put it in a small embroidery hoop to stabilize it.  Take a stitch, keep it to 1/4″ or so (no toe catchers needed) then do four wraps and insert into the fabric.  I also made some French Knots without stalks, as I suggest on the pattern page.
Another way and maybe easier to make French Knots on stalks is to make a bunch of small straight stitches angling out from the center.  Then go back and put French Knots on them.  I did that with half of them and I can't tell the difference!  Seemed to be quicker too.
You will notice I don't have a bud on the finished block.  I decided to add that to the drawing after I had finished the block.  How do you want your block to look?  Add it or not, up to you.  I may add it later, we shall see.
Rachel P. also shared another block, this time it is the Lily.  I like the way the dark petals emphasize the "inner" flower.
Keep up the beautiful work you are all doing.  Any other finished blocks?  We would all love to see them as they are an inspiration to others.  We don't care how long ago you started it, just share!
Click on the title "2017 Alphabet Block of the Month" below to take you to the page with the 2017 blocks.
2017 Alphabet Block of the Month
Tags: alphabet, appliqué, batik, block-of-the-month, BOM, fabric, flowers