Two Little Dickie Birds

Intermediate Quilt
It is always fun to try and come up with something when a theme is presented to you. When Marian from Sew it Seams first talked about "Once Upon A Time or Nursery Rhymes" for the Row Along, Hickory Dickory Dock sprang to mind, but once I got down to the wire of what I was REALLY going to do, I chose Two Little Dickie Birds instead.
I was looking through my children's old nursery rhyme book and found this rhyme about two little birds.  Somehow it struck me right then and there that was what I had to do.
Two Little Dicky Birds, sitting on a wall.
One named Peter, one named Paul.
Fly away Peter, fly away Paul.
Come back Peter, come back Paul.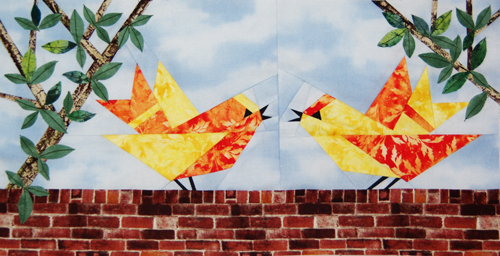 If you are interested in this pattern,
contact me through the Stay in Touch page above.