Lavender Sachet Tutorial
Posted on

January 31, 2022

by

bdieges
I made these as Christmas gifts for my prayer group.  Every year we exchange small gifts, usually something we make for each other.  So I thought I would post this tutorial for you.  They don't take long, although there is a tiny bit of handwork to finish them off.
I gathered the lavender this summer, planning to use it for sachets, but hadn't decided what the sachet was going to look like until now.  Three bushes gave me about four quarts.
I could have used many different fabrics, but since I was using lavender, I thought purple would be appropriate.  Here are the tools and ingredients you need to make a 3″ or so sachet.  Or forget the lavender and stuff them with wool batting, to use for a pincushion.  Why use wool? It has enough oil in it to keep pins from rusting.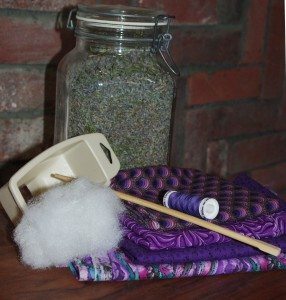 Four different cotton prints.

1/2 cup of dried lavender.

A handful of polyester or cotton stuffing.

Funnel with a large opening.  The opening on my funnel is about 3/4″, although you could use a smaller one, but it might clog.

Sewing machine, with 1/4″ foot if possible.

Thread matching the fabric.

Chopstick, for turning the patchwork and stuffing.

Hand sewing needle to sew the opening closed.
Here are the directions:
Cut FOUR 3″ squares, one from each print. 
Assemble them by sewing two squares together.

Press open and sew the squares together as a Four Patch.
Now fold the sewn patchwork in half, so you have a rectangle and sew across the short ends.  Backstitch at the beginning and end of the seams.
Bring the two seams together, and pin so the seam allowances are opposing.
Sew from one end, beginning and stopping about half way to the center seam with a backstitch.  Turn the unit around and repeat from the other end.  Leave a large enough opening in the center for the funnel.
 Diagonally trim off the corners, to lessen the bulk, be careful not to clip the seams.
Turn inside out, gently push out the corners.  I use a chopstick for this purpose.
Insert funnel in opening and pour in lavender.  The picture shows it sitting on the table, but you have to hold it up, so the lavender will drop into the sachet.  Hold the sachet and funnel together, with one hand and gently push the lavender in with the chopstick with the other hand.  This took a little bit of doing, but I got the hang of it.  You will understand when you actually do it.
Place small amount of stuffing on top of the lavender.  This accomplishes two purposes, it adds a little more fullness to the sachet and it keeps the lavender from falling out while you are sewing it together.
Hand stitch the opening closed.
All finished, they smell wonderful!
Tags: gift, lavender, pincushion, sachet, tutorial