Christmas is on its way!
Posted on

December 1, 2021

by

bdieges
Just finished with Thanksgiving and so now it is, on to Christmas!
Hope you had a wonderful Thanksgiving, we did, spent it with family and friends.  Actually had two Thanksgiving celebrations, spread out over the week!  Our family came up from Los Angeles, the weekend before Thanksgiving, and we barbecued a turkey.  We haven't done that since we moved to the mountain in 1996, because the altitude seemed to affect the heat of the coals.  We thought we would try it since we had moved down the mountain, 2000 feet actually makes a big difference, it worked!  It was wonderful, with so much flavor!
Then on Thanksgiving Day, we spent the day with friends and their families for dinner.  Another yummy dinner!  We have so much to be grateful for, so many things that we take for granted, for which we need to be grateful!
Since it is Christmas I thought I would share the Christmas Celebration Wreath appliqué block with you for this month.  This is from my book Christmas Celebration! which is still available.  If you are interested click on the picture for the link to my books and scroll down.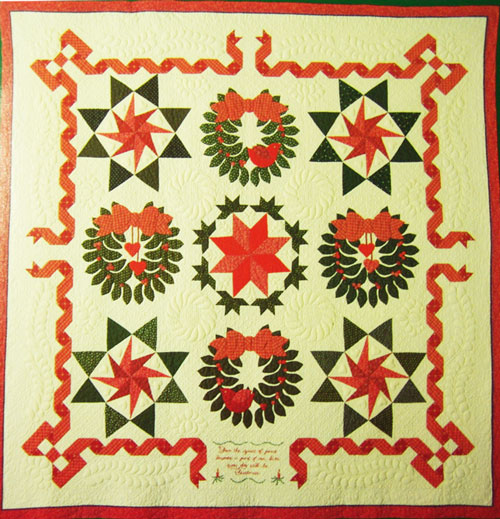 ••••••••••••••••••••••••••••••••••••••••••
Another Waggly Tails quilt!  This one is from Cici.  She said this is her second quilt top! If you make any of my quilt patterns, I love to see pictures of them done in your fabrics.  In this virtual world of computers, it is the only way to share!
---
---
Click below to take you to the 2021 Block of the Month.
Remember the free version goes away at the end of the month!
Don't forget to check out my online classes!
My On-Line Classes at Academy of Quilting
---

Tags: block-of-the-month, BOM, Electric Quilt, EQ, paper piecing, piecing