Pages from my book
Enjoy viewing four quilts from A Thread Runs through it, including the cover quilt. 
---
Wheels Going Across the Prairie is the cover quilt made with pieced stars using strip piecing techniques and appliquéd vines.
---
Angles 'n' Squares is an easily pieced quilt that is shown with several different settings.
---
Home on the Mountain is a fun pieced quilt with an original block based on a picture I took of a log cabin in the mountains of Tennesee.  The original mountain and trees block uses quick piecing techniques, and no triangles were cut to make these blocks. 
---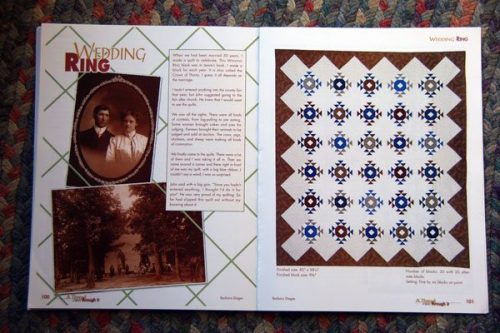 Yes, this is the Wedding Ring block, just not the one from the 1930's with which everyone is familiar.  This one is from the 1900's in keeping with the age of the other blocks in the book.  Wedding Ring is only one of its names, another one is Crown of Thorns.  "Guess it all depends on the marriage," as Anna herself, says in the book
---
Anna reminisces, "This quilt reminds me of all those cherry-picking summers…"
---
---