Block of the Month Gallery
Thought it would be fun to have a page to display the appliqué blocks of the month, to encourage those of you who have made blocks, to share pictures of them with us on this page.  Look forward to seeing many more through the coming months.  If you want to be anonymous, or just have your first name listed, I can do that, too.
Ella sent photos of her blocks, from the 2015 BOM; they are hand painted and very lovely.  She is also going to do embroidery on them.  Love it when someone thinks outside the box.  It would not even have occurred to me to replicate the designs in paint, but why not?
Jennifer finished all twelve blocks and shared her accomplishment with us because she is ready to put the top together.  She teaches Math and summer is her time to quilt, hopefully, we will be featuring the completed top soon! What lovely blocks!!
Jennifer is sharing the January and February blocks!  Anyone else out there, just leave a message and I will be contacting you!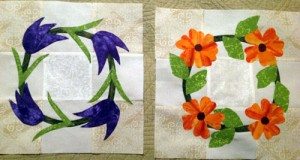 Here are Gene's blocks, for a beginner she is doing very well! Here I thought I would be ahead of everyone and it seems although I am running, I'm not catching up!
 Val sent me a picture of her two 2012 Oma's Cupboard blocks, hope there are more to come from her and others, so I sent her the Assembly Instructions.
Here are Libby's 2011 Block of the Month blocks.  She told me that she made all the base blocks ahead of time, so as the blocks were posted each month, she could appliqué them.  Almost looks like a quilt, with all the blocks laid out, so I couldn't resist joining them with a sashing.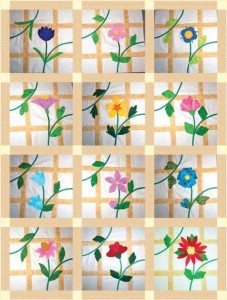 Here is a quilt from Sandy Wyngard using the blocks that were posted in 2009.  I am posting what she had to say about the quilt:
This is Dottie Olsons' door quilt…four of the blocks were done by her…before she lost her eyesight to sew…two of the blocks..pink flowers and Iris were done by me,( needle turn applique..by hand). I assembled the quilt and machine quilted it and used a different technique to bind it ..completely by machine.
These are the other four blocks I have done for my quilt..I have a few more to do…I was hoping to get a 9 block quilt ..we will see since I gave two blocks to my friend.  Some of the blocks have been embellished with colonial knots, embroider and beads. I still have some embellishment to do to the other two blocks.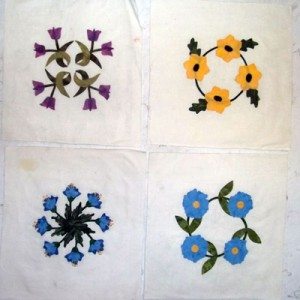 Here is Mandy's stunning quilt made with Blocks of the Month!  It was so exciting to receive this picture of all her hard work. She said it made her think of stained glass. Thank you Mandy for sharing it with us!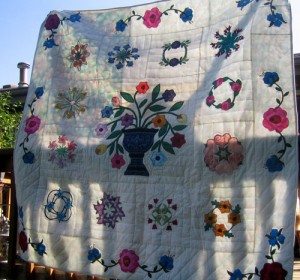 Little Red Quilt Shop in Medina OH, is sharing two quilts from the Through the Seasons shop program.  Thank you!
Sleigh Bells December 2009




Stitched by Annmarie

Rose of Sharon–January 2008
Stitched by Carol Doyle

April Stars–2008




Stitched by Carol Doyle

April Block–April Stars–2008




Stitched by Mary N.

May Block–Jonquils–2008




Stitched by Carol Doyle

May Block–Jonquils–2008




Stitched by Isa in Spain
2007 Navigating the Seasons–Stitched by Susan Torrens
Susan won a third place in a local quilt show, in the "Quilts in Bloom" category.  All but one block are from this website.

RCTQ 2007-2008–Stitched by Carol Doyle
The three blocks Carol shared with us
are on the top and right side of the quilt photo.
---