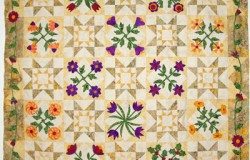 Posted on September 18, 2014 by bdieges in Blog.

Pin ItOver a year ago, time flies when you are having fun, I posted about putting all the blocks-of-the-month for 2010 together and that I was working on the border.  There was a tutorial on appliqueing skinny stems.  Click tutorial, if you want to look at it. Finally finished the four borders and sewed them on today. […]

2 Comments. Continue Reading...